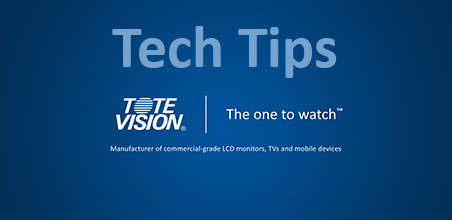 Welcome!
ToteVision's TechTips is our blog that will help you understand the world of LCD TV and monitor technology. Our goal is to help our professional AV and security customers become more knowledgeable about this technology. If you're a prosumer (and a self-professed geek), then you may also enjoy our tips. If you're someone who just likes to watch TV and doesn't care what TV stands for, then most likely you will find this blog a 'yawner'.
We will do our best to give you unbiased insight on new trends and new technology – separating the hype and vapor from the reality. We will also demystify specifications, and occasionally comment on the related marketing propaganda that may or may not be exactly accurate.


Each post will be under 3 minutes in length as we know your day job is most likely billable. Please enjoy and give us feedback at info@totevision.com. We value all comments, but we prefer praise.
Go ahead and click on the TECHTIPs category link over on the right side and enjoy!